Description

Peter Sprague Plays the Builder's Edition 816ce
Builder's Edition 816ce
Leading the way for our newly redesigned Grand Symphony body shape, the Builder's Edition 816ce highlights the transformative Taylor design philosophy with lovingly crafted contours, an expansive acoustic tone, and player-focused enhancements. The ultimate playing experience begins with Indian rosewood back and sides paired with a Lutz spruce top, offering all the low-end warmth and sparkle you'd expect from the classic rosewood/spruce combination with additional bloom and resonance added by V-Class bracing. But this Builder's Edition model truly shines in the details, starting with its most significant innovation: the soundport cutaway. Crafted to resemble a partial Florentine cutaway, the design keeps the guitar's full back intact while still allowing easy access to the high-register frets. The additional soundhole adds a truly new dimension of acoustic sound, creating a wide-angle sound that would fit as well in a classical orchestra as it would a rock band or a fingerstyle solo act. For aesthetics, we've appointed this model with a host of our most player-centric features, including figured maple binding with chamfered edges and rosewood edge trim, a single-ring rosette in green abalone, Windansea inlays in shell and mother-of-pearl, and ultra-precise Gotoh 510 tuners in antique gold. The guitar ships with ES2 electronics in a deluxe Taylor hardshell case.
A 6-String Symphony
Rosewood and Lutz spruce, V-Class bracing, a soundport cutaway, light-gauge strings, and other design details unleash a uniquely expansive voice with an airy, orchestral flavor.
Builder's Edition 816ce – Special Features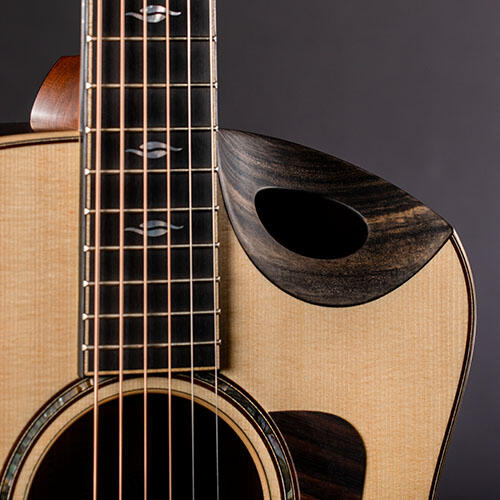 Soundport Cutaway
A partial cutaway houses an innovative off-axis soundport. Together with V-Class bracing, the soundport's unique acoustic dispersion pattern creates a more immersive, surround-sound musical experience.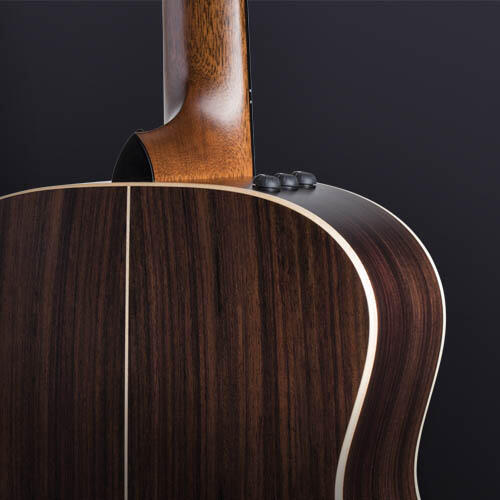 Rolled Edges
Using next-level craftsmanship, we've chamfered the body and fretboard edges to give the guitar a more inviting feel for both picking and fretting.
V-Class Bracing
Our revolutionary new sonic engine powers each Builder's Edition guitar, reshaping the sound to produce more volume and sustain, with notes that are more in tune from top to bottom.
Become a Taylor Insider
Sign up and be the first to know when Builder's Edition guitars make it to stores near you. We'll also keep you up-to-date on the latest from Taylor, including events at dealers, new models, and even guitar giveaways.