Description
If you're looking for a compact acoustic guitar with a big voice and a stunning visual appeal to match, look no further than the GS Mini-e Koa Plus. Built with back and sides of layered Hawaiian koa with a solid koa top, this model's clear, articulate sound is right at home whether you're practicing on the couch or making music with friends. An attractive finish treatment draws out koa's lush visual beauty, while built-in electronics make it easy to plug in and play wherever your musical path takes you. It ships with a sturdy Aerocase for reliable, safe transportation.
Features
Discover the features that make this guitar unique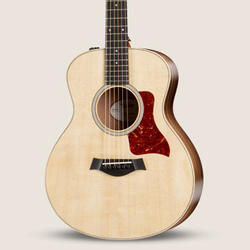 GS Mini
Shapes
Body Width: 14 3/8″ / Body Depth: 4 7/16″ / Body Length: 17 5/8″
A scaled-down GS that's anything but small.
Scaled-down Grand Symphony body
Great for all playing styles
Considered a modern-day parlor guitar
The award-winning GS Mini was designed to be the ultimate musical companion, wherever you go — or stay. Inspired by the big, bold sound of Taylor's GS body shape, the Mini scales things down without skimping on sound, packing a ton of tone into a comfortable travel size and giving you a guitar that's full-voiced and incredibly fun to play. Think of the Mini as a modern-day parlor guitar, perfect for playing around the house but also built to fit an active lifestyle.
Inspired by the big, bold sound of Taylor's Grand Symphony, the GS Mini scales things down without skimping on sound. The guitar manages to pack a ton of tone into a comfortable, travel-and couch-friendly guitar that's full-voiced and incredibly fun to play.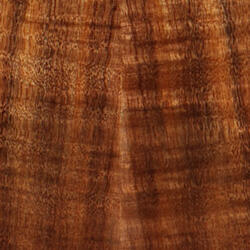 Hawaiian Koa
A koa top's visual beauty is instantly inspiring, while its sonic rewards unfold over time, as warm, sweet overtones gradually emerge.
Hawaiian Koa
A hardwood top such as koa produces a natural compression, so there tends to be more of a controlled, sustaining "roll-in" effect to a note. An all-koa guitar will produce strong fundamental focus, with a splash of top-end shimmer.
Hawaiian Koa
Origin: The Big Island of Hawaii
Used On: The Koa Acoustic and Acoustic/Electric Series
As a tropical hardwood, a koa top will initially project a bright and focused tone, especially together with koa back and sides, but as it's played, it matures into an increasingly warm, rich, sweet sound with healthy overtone "bloom," especially in the midrange. A common mistake is when a "bright" player buys a koa-top guitar in part for its visual beauty, finds it to be too bright, and doesn't play it enough to allow the wood to develop its resonant tone.
Goes Well With: Fingerstylists who play more with the pads of their fingers and tend to have a meatier touch. Bright players need to be careful because of koa's existing brightness.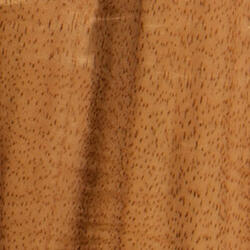 Layered Koa
Beautifully figured and durable, layered koa provides attractive visuals and tone at an accessible price.
Layered Koa
Taylor's layered backs and sides incorporate three layers of wood, featuring a middle core of poplar with a veneer on each side. While layered woods won't produce quite as complex a sound as solid woods, they allow us to blend exotic looks with climate-resilient construction.
Layered Koa
Like Taylor's other layered wood options, layered koa features an all-wood laminated construction, in this case with an exterior layer of beautifully figured koa veneer and an interior layer of either koa or sapele, separated by a core layer of poplar. Though the tonal properties of layered wood aren't as complex as solid wood, the construction method enables us to conserve tonewood resources and offer attractive, durable instruments at a more inviting price. A solid spruce top and Taylor craftsmanship ensure a clear, balanced tonal response.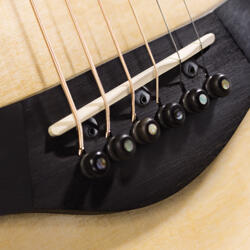 Expression System® 2
The Expression System® 2 captures more of a guitar's dynamic properties using a breakthrough behind-the-saddle design.
Expression System® 2
The Expression System® 2 captures more of a guitar's dynamic properties using a breakthrough behind-the-saddle design
Expression System® 2
The Taylor Expression System® 2 (ES2) is a revolutionary pickup design that delivers the latest in Taylor's ongoing innovation in acoustic guitar amplification. The heart of the Expression System 2 is Taylor's patented behind-the-saddle pickup, which features three uniquely positioned and individually calibrated pickup sensors. The location of the sensors enables a more dynamic range of acoustic sound to be captured than ever before. Together with Taylor's custom-designed "professional audio"-grade preamp, this system produces exceptional amplified tone and responsiveness. On stage through a PA, plugged into your favorite acoustic amplifier, or direct into recording software, the Expression System 2 faithfully conveys the voice of your Taylor guitar.
Behind the ES2 Design: Rethinking the Piezo Pickup
For decades, piezo-electric transducers have been positioned under the saddle of a guitar based on the long-held belief that the string and top vibration cause the saddle to "bounce" up and down. But Taylor's electronics team, led by developer David Hosler, discovered that the vertical movement is actually heavily restricted, and that the saddle gets "locked down" due to the string tension's downward pressure. That's why a traditional under-saddle pickup with piezo-electric crystals often responds with a sound often characterized as thin, brittle, brash or synthetic, especially with more aggressive playing.
The saddle's natural range of movement as the guitar is being played is actually back and forth like a pendulum. That revelation led Taylor's design team to relocate the crystals from under the saddle to behind it. The new positioning enables the crystals to respond more naturally to the guitar's energy as it is transferred through the saddle. Three pickup sensors are installed behind the saddle, through the bridge, with three tiny Allen screws that calibrate the position of the sensors in relation to the saddle.
Like the original Expression System, the ES2 features the same volume and tone control knobs. The preamp is similar but with a slightly different gain structure. As a result it will be about 25 percent hotter, which is more in line with other pickups. This makes it plug-and-play friendly both for artists and live sound mixers.
| | | | |
| --- | --- | --- | --- |
| | | | |
| | Highlights | | |
| | Scale Length | 23-1/2″ | |
| | Nut & Saddle | Nubone Nut/Micarta Saddle | |
| | Bracing | X Bracing | |
| | Truss Rod Cover | Black Plastic | |
| | Pickguard | None | |
| | Number of Frets | 20 | |
| | Tuners | Taylor Nickel | |
| | Case | Aerocase | |
| | Brand of Strings | Elixir Phosphor Bronze Medium | |
| | Body Length | 17 5/8″ | |
| | Body Width | 14 3/8″ | |
| | Body Depth | 4 7/16″ | |
| | | | |
| | Body | | |
| | Binding/Edge Treatment | None | |
| | Top Finish | Varnish | |
| | Back Config | Layered Koa | |
| | Backstrap Finish | None | |
| | Rosette Size | Three Ring | |
| | Bridge Inlay | None | |
| | Back/Side Finish | Varnish | |
| | Armrest Binding | None | |
| | Backstrap Wood | None | |
| | Rosette Mat. | None | |
| | Stain/Sunburst | None | |
| | Wedge | None | |
| | Armrest | no | |
| | | | |
| | Neck | | |
| | Neck Width | 1-11/16″ | |
| | Fretboard Inlay | None | |
| | Fretboard Binding/Edge Treatment | None | |
| | Heel Cap Binding | Black | |
| | Type of Neck Joint | Scarf | |
| | Neck/Heel | Tropical Mahogany | |
| | Fretboard Wood | Ebony | |
| | Neck Finish | Varnish | |
| | Heel Length | 3″ | |
| | | | |
| | Peghead | | |
| | Peghead Finish | None | |
| | Peghead Binding | None | |
| | Peghead Type | Standard | |
| | Peghead Purfling | None | |
| | Headstock Overlay | Copafera | |
| | Peghead Inlay | None | |
| | Peghead Logo | Printed on Headstock Overlay | |
| | | | |
| | Other | | |
| | Bridge Pins | Black | |
| | Buttons | None | |
| | Fingerboard Ext | None | |
| | Edge Trim | Black/White/Black | |
| | | | |
*Models are subject to change without notice