Description

Description
When Steve Vai teamed up with Ibanez in 1987, little did he realize what a lasting impact his signature model guitar would have. Today, the JEM is an iconic instrument immediately identified with the legendary guitarist. Famous for its distinctive look and innovative design, time has seen this popular, upscale guitar become the most counterfeited model in the world. In an effort to make the JEM available to a broader fan base, Ibanez has released the JEMJRSP, providing more affordable access to the magic that is the JEM. Featuring a Mahogany Body attached to a Wizard III neck, the JEMJRSP offers many of the JEM's distinguishing characteristics; the H/S/H pickup configuration, the "Tree of Life" inlay, a double locking tremolo system, and of course, the famous Monkey grip and Lion's Claw tremolo cavity.
SPECS

neck type

top/back/body

fretboard

fret

bridge

Double Locking tremolo bridge

string space

neck pickup

middle pickup

Infinity (S) middle pickup

bridge pickup

Infinity (H) bridge pickup

factory tuning

string gauge

.009/.011/.016/.024/.032/.042

hardware color

NECK DIMENSIONS

Scale :

a : Width

b : Width

c : Thickness

d : Thickness

Radius :

DESCRIPTION

SWITCHING SYSTEM

DESCRIPTION

When the pickup selector switch is in neck position, the neck humbucker is selected. When the switch is between neck and center position, the bridge side of the neck humbucker and the center pickup are selected. When the switch is in center position, the center pickup is selected. When the switch is between the center and bridge position, center pickup and the neck side of the bridge humbucker are selected. When the switch is in bridge position, the bridge humbucker is selected.

CONTROLS

DESCRIPTION

With the guitar held in the playing position, there is one knob and one switch along the lower edge of the body. Closest to the neck is the five-way pickup selector switch. Closer to the input jack is the tone knob. The volume knob is located right above the five-way pickup selector switch.

OTHER FEATURES
Features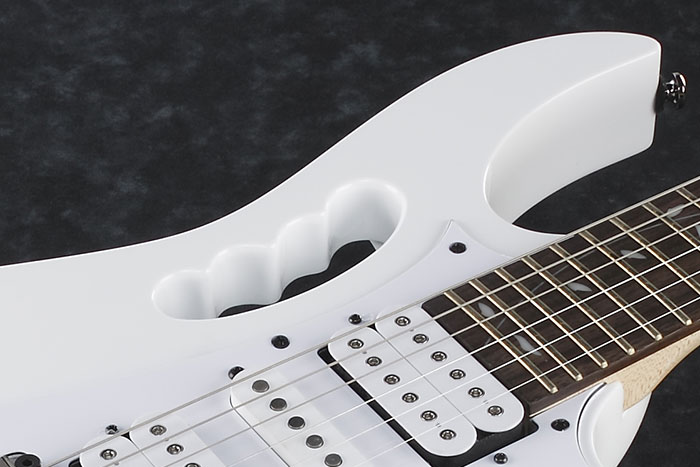 Monkey Grip
One of JEM's most recognizable features: Steve Vai's signature monkey grip. Crank your amp up, grab that baby and hold on for dear life.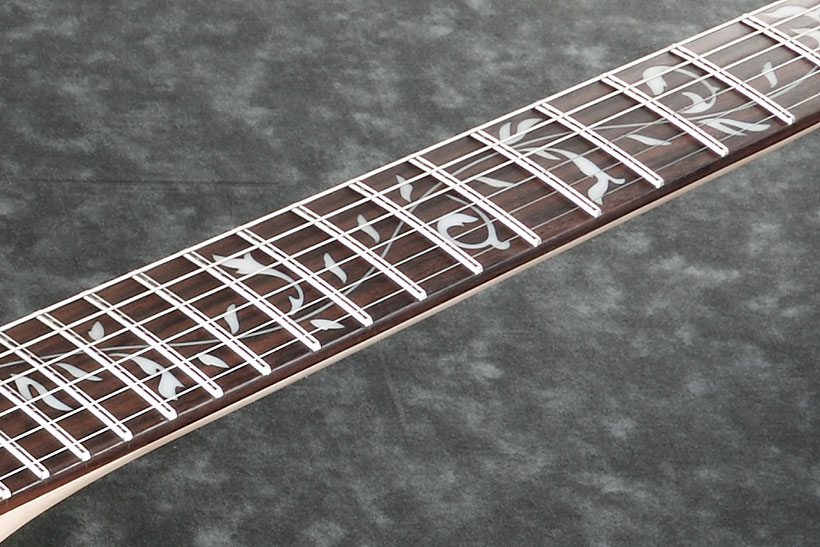 Jatoba Fretboard w/Tree-of-life inlay
Jatoba has a reddish brown color which produces a rich mid range with a crisp high end.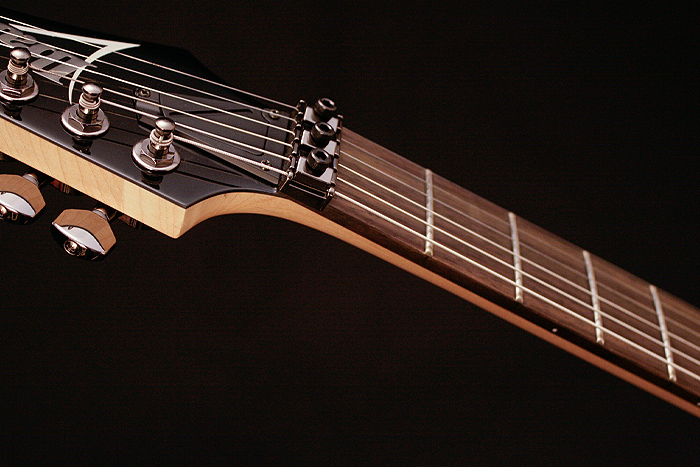 Wizard III Maple neck
Ibanez's thin, flat and fast Wizard neck is strong and sturdy and offers unlimited playability and features a two-octave 24-fret fretboard for a wide tonal range.